Description
Brand Name:

GPD

Port:

Card Reader

Port:

1*USB3.1 Type-C

Port:

1*USB3.0

Video Memory Capacity:

Main memory allocated memory

Display Size:

5.5

Display Ratio:

16:9

Screen Refresh Rate:

60Hz

Dimensions (WxHxD):

198x92x27mm

Hard Drive Capacity:

1TB

Weight (Battery Included):

<1.5Kg

Hard Drive Type:

SSD

Certification:

CE

Item Condition:

New

Operating System:

windows 10

Origin:

CN(Origin)

Model Number:

gpd win3

Graphics Card Model:

Intel Iris Xe Graphics

Type:

Gaming Laptop

CPU Brand/Model:

Intel Core i7-1165G7
This is presale .all the orders will be sent out from 15th June to 25th June.pls dont make the order if you canot wait!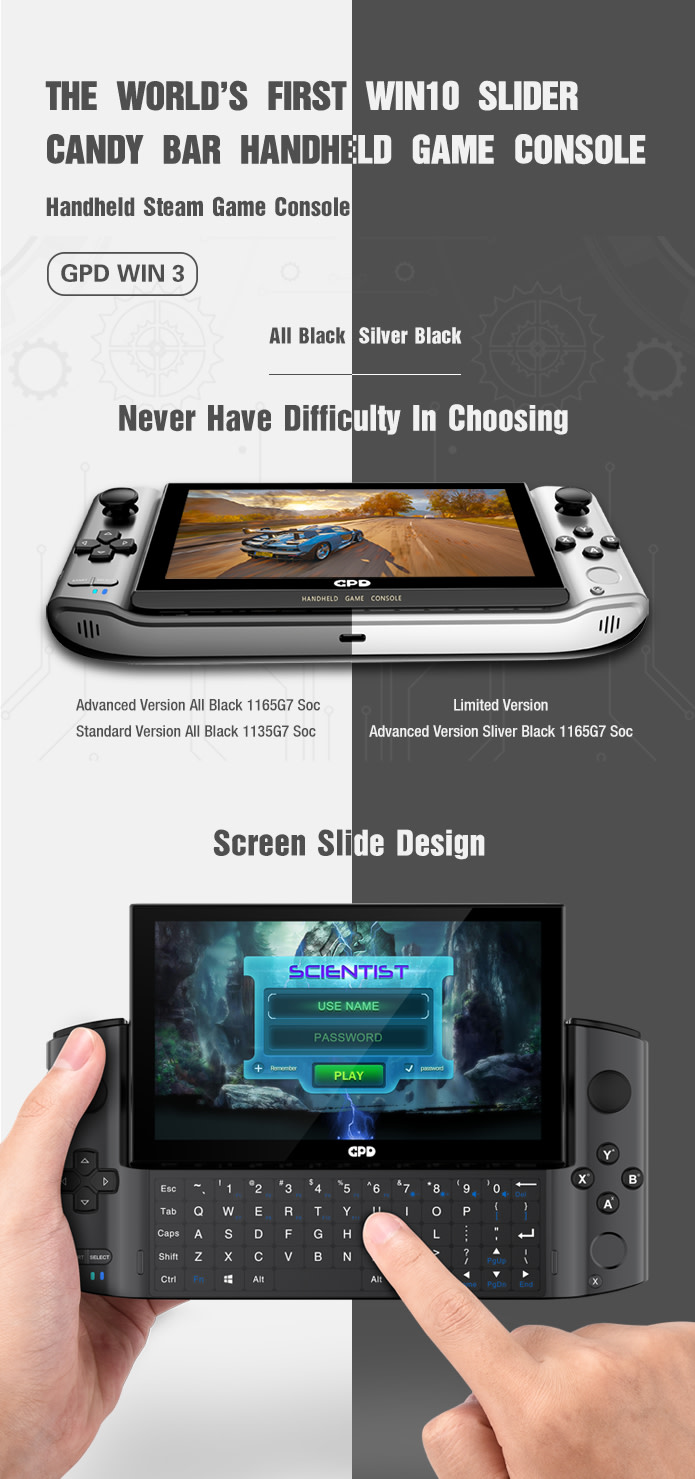 From the first generation of the WIN series, the handheld game consoles created by GPD were all clamshell designed because screen input of the Windows system is not user friendly. However, many users did not like the combination of keyboard + clamshell, and strongly asked us to launch an unibody type handheld game console. For our users, after exploration, we referred to the design of the sliding mecanism of the Sony UX series, incorporated the new backlit touch keyboard, and finally designed the WIN 3. It allows us to renew the design of our Win original handheld game console and break the boundaries with the common cliches of clamshell form factor devices. The specifications of WIN 3 are the best according to the current market, and we will mention them one by one later!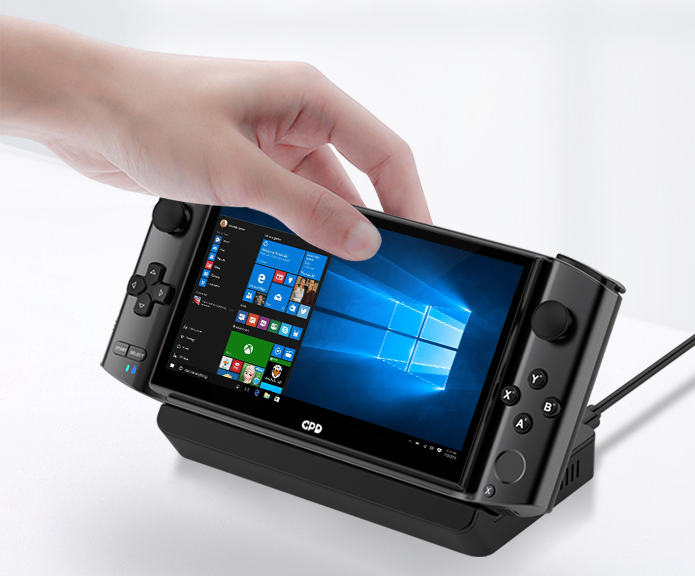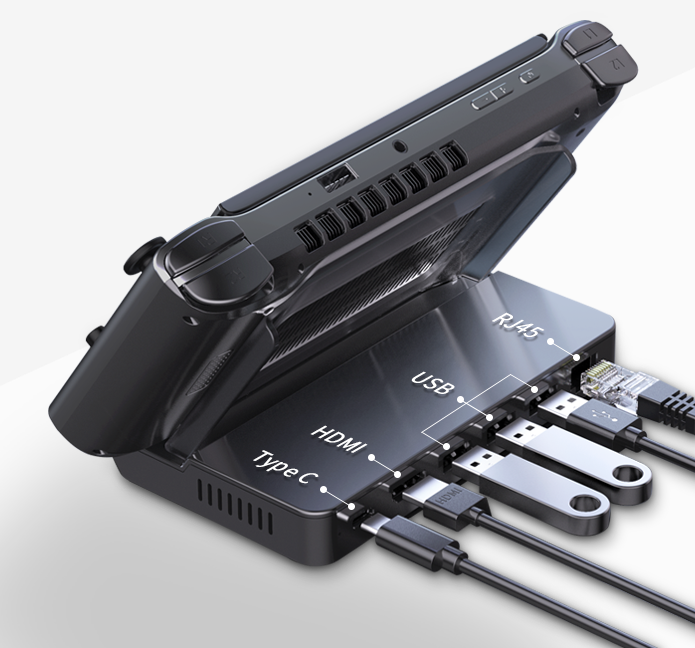 Interface description:
3 USB 3.2 Gen2 Type-A ports, up to 10Gbps;
1 USB 3.2 Gen2 Type-C interface, up to 10Gbps;
1 HDMI 2.0b interface, bandwidth up to 18Gbps, supports up to 32 channels, 48bit maximum color depth, and supports HDR;
1 RJ45 network port, 10/100/1000Mbps self-adaptive network card.
Docking Size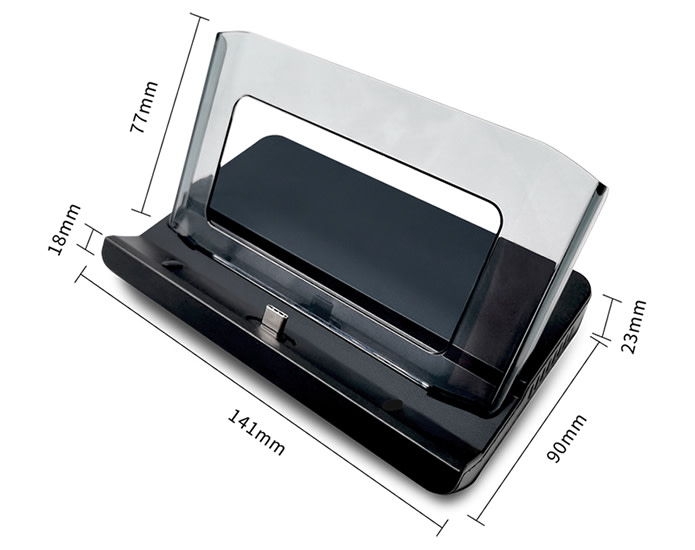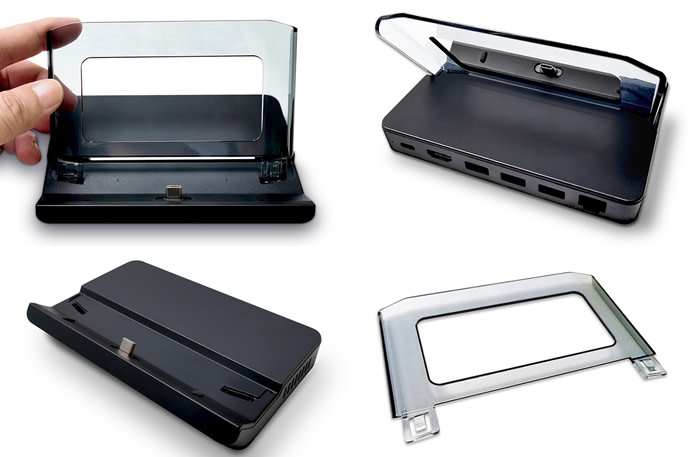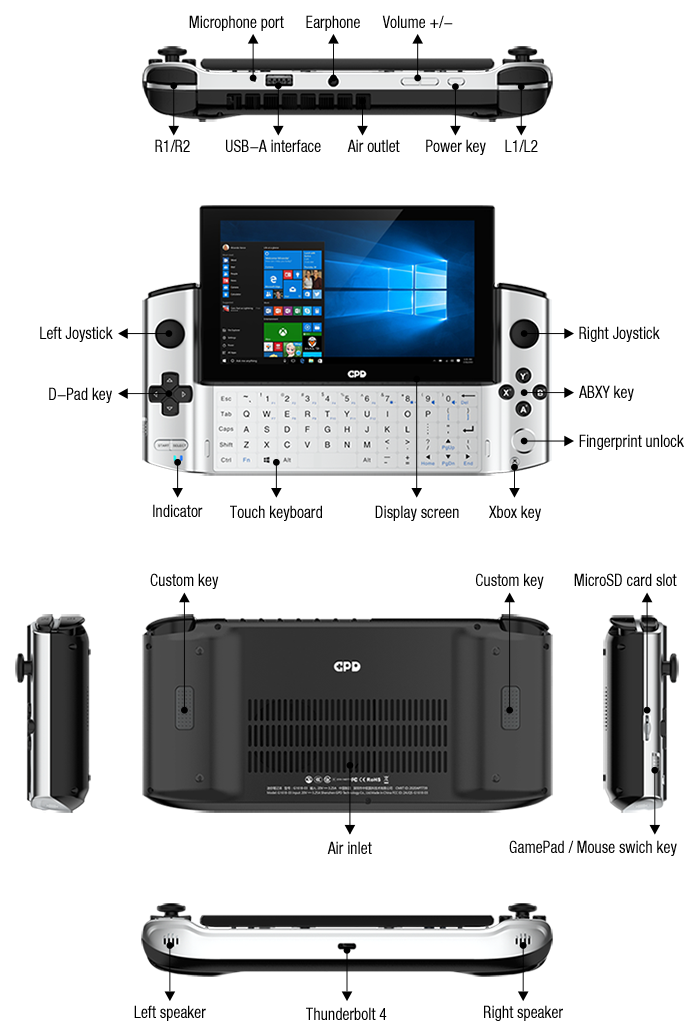 The world's first Win10 slider featured unibody handheld game console, and the most complex handheld game console in GPD's history!
Most latest AAA-level game masterpiece can run at60 FPSwith tweaks;
Screen slider design+ hidden white backlit touch keyboard with haptic feedback;
PC-grade turbofan+dual heat pipesfor efficient heat dissipation, large displacement back heat blowing design with 8-hole channel;
Dual vibration motorsinside the handles;
Two ALPS thumbsticks comparable to top joysticks company in Japan's Seimitsu and Sanwa,native support for L3/R3;
Analog trigger buttons L2 / R2 allowing better racing feeling with a pressure controlled sensor, as it allows a better  feeling in FPS as well in order to shoot your enemies, offering an immersive experience;
AAC top three-dimensional linear loudspeakerfrom Germany, double amplitude enhancement, with a lively sound;
The shell is made of aviation-grade ABS synthetic resin, with Rockwell hardness of 109R, matte body, great texture;
5.5-inch brigtht screen,268 PPI, H-IPS technology, the 5th generation Corning Gorilla Glass,NTSC: 84% (typ),DC dimming;
Intel 11th generationTiger Lake-Useries processors,single-core performance surpasses desktop flagship i9-10900K;
Intel 12th generationIris Xe Graphicscore graphics card, general performance surpassesMX350, even compete in specific tasks withMX450;
LPDDR4x 4266 memory, available with Intel's 11th generation Tiger Lake-U processor, offers a maximum memory bandwidth of86GB/sand have an important role in general performances;
The newThunderbolt 4unified interface doubled bandwidth, nativelysupports USB 4and when anexternal eGPUis installed, the independent display performance is fully utilized,and the frame rate is greatly increased depending the eGFX used;
Thefourth-generation PCIe bus technology,M.2 NVMe 2280 SSD'sread and write and speed are greatly increased,even capable to beat Thunderbolt 4 speed;
SupportA2-level microSDXCcard,read speed up to 160MB/s;
Support the latestWi-Fi 6,300MB/s high-speed Internet, which is 2.77 times faster than Wi-Fi 5;
SupportBluetooth 5.0, 3MB/s transmission speed, with local GPS capacity within 1 meter, long-distance communication of 300 meters, up to 7 Bluetooth devices can be connected;

Users who have participated to our previous crowdfunding campaign are no strangers to the WIN Max. The following table is a comparison between WIN 3 and WIN Max: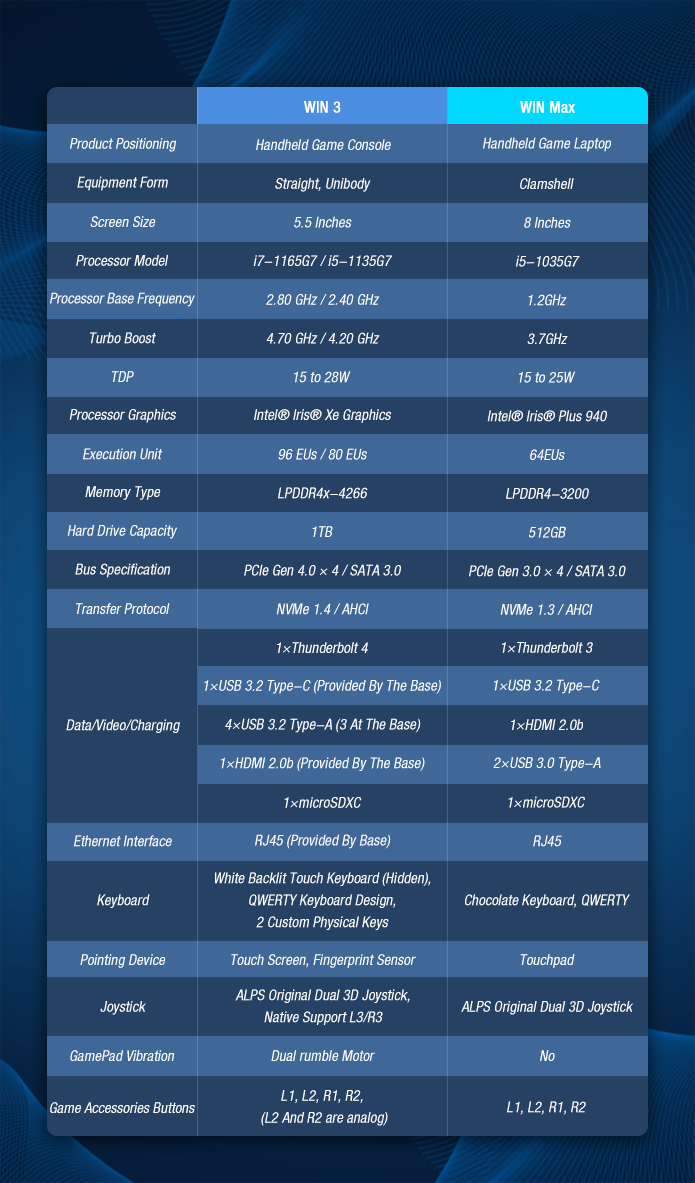 Unlike the WIN Max, WIN 3 take advantage of the performance of the Intel® Iris® Xe Graphics core graphics card which greatly increase the number of FPS. The following table displays measured data of default game settings at a resolution of 1280×720.

*Testing environment: i7-1165G7 & i5-1135G7 / 16GB LPDDR4x-4266 / 500GB NVMe SSD / 1280×720 / Windows 10 Home 64bit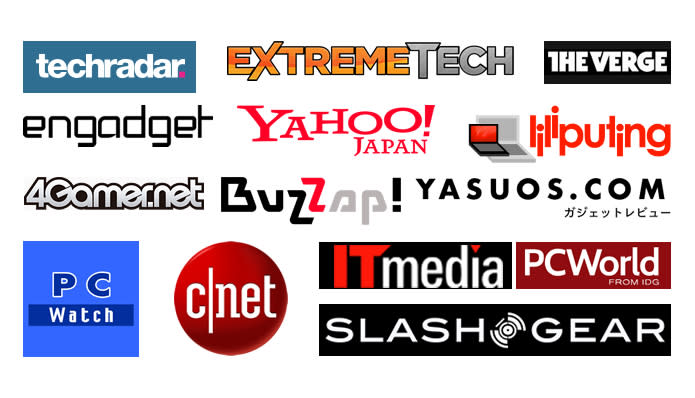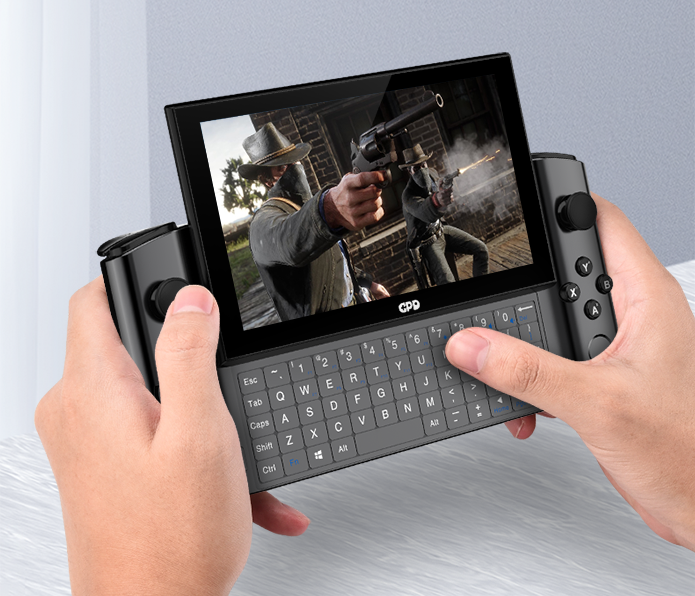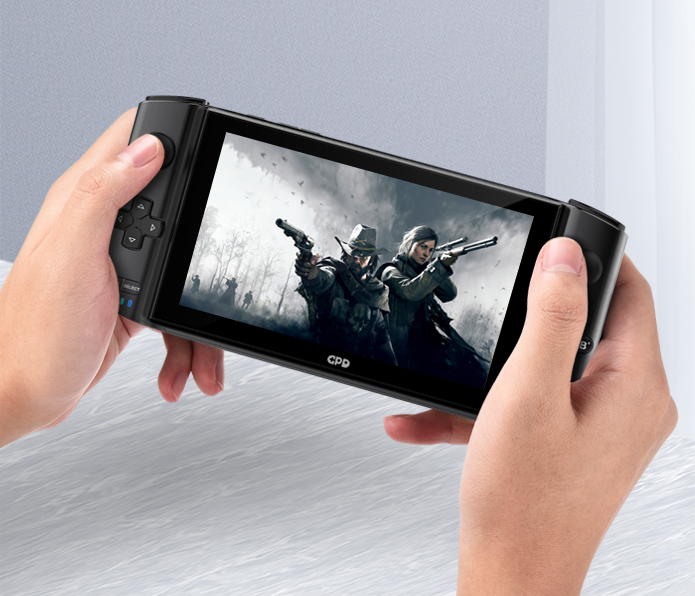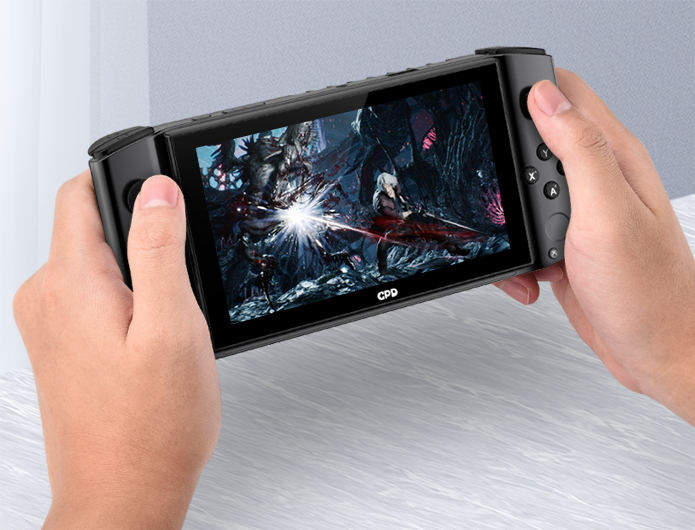 Held with both hands, play games anytime, anywhere.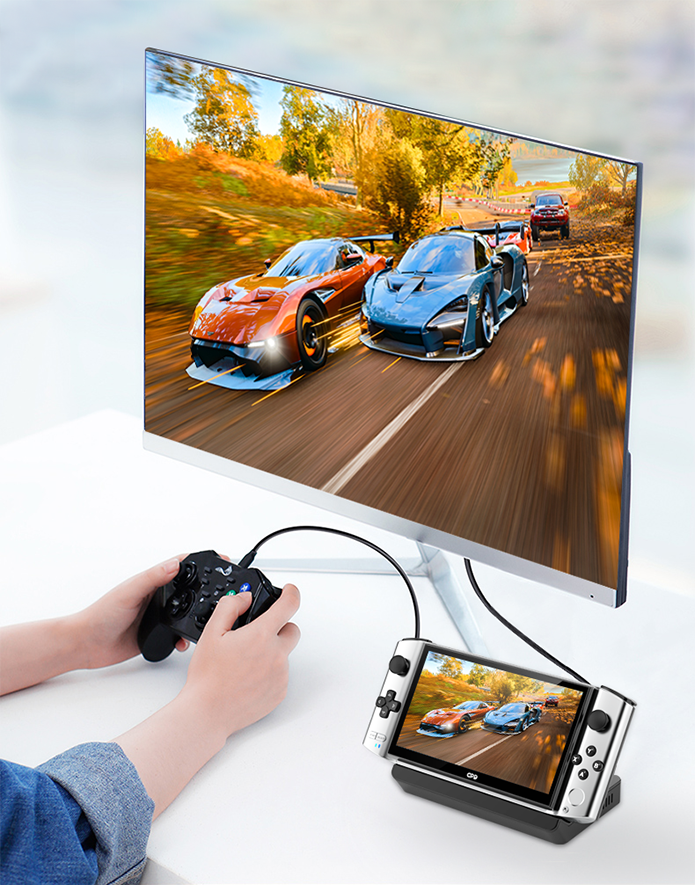 Docking station + device sitting flat on the desktop as a host, with an external monitor, playing games.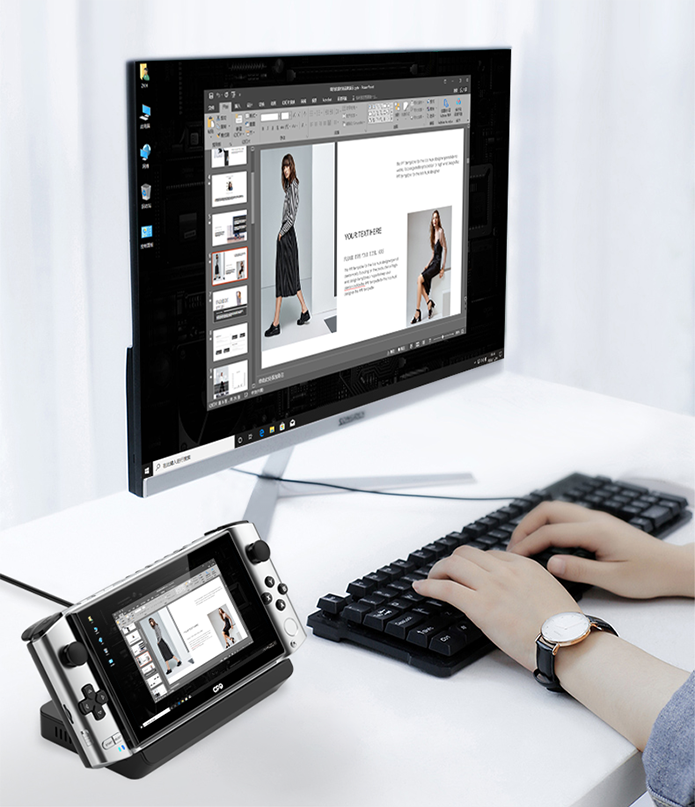 Docking station + device sitting flat on the desktop, linked to an external mouse, keyboard and monitor;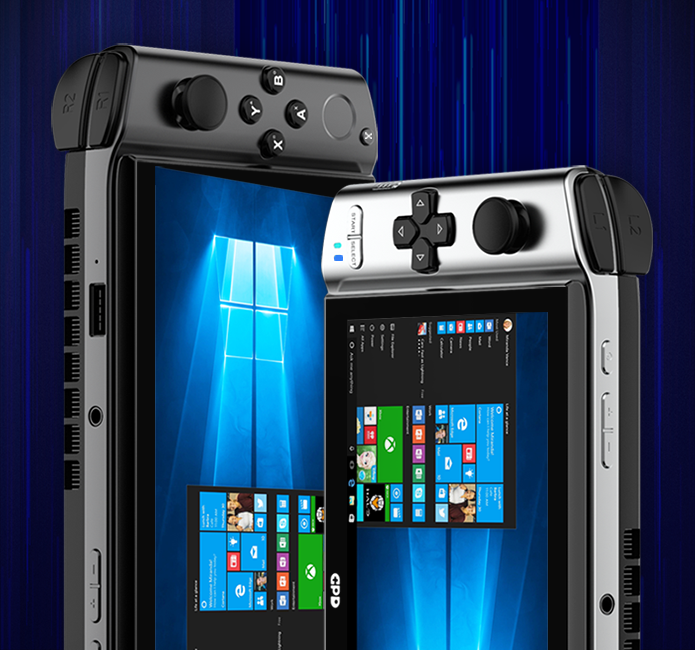 Pure handheld game console players have high requirements for screen size. In example, 3DS XL's screen is only 4.88 inches, PSV 2000's one is 5 inches, WIN 1's one is 5.5 inches, WIN 2's one is 6 inches, Switch classic's one is 6.2 inches, Switch Lite's one is 5.5 inches. Generally speaking, 5.5 inches is the most common size accepted by the majority of handheld game console players.
WIN 3 features a 5.5-inch sliding bright screen, NTSC: 84% (typ), resolution 1280×720, 268PPI, and adopts Corning's fifth-generation Gorilla Glass, DC dimming, so there is no need to worry about the graininess of the screen. If you own or have used a WIN 1, you should be able to have a better understanding of the experience with this screen size compared to new users. In fact, the 5.5-inch screen size of WIN 1 is the most used and reputable in gaming handheld even today!
The main body of WIN 3 still adopts LG-DOW 121H aviation-grade ABS synthetic resin, with Rockwell hardness of 109R and bending strength of 26,000kg/cm2. On the grey version the front side and the lateral sides are silver-gray matte spray, without reflection and with great texture.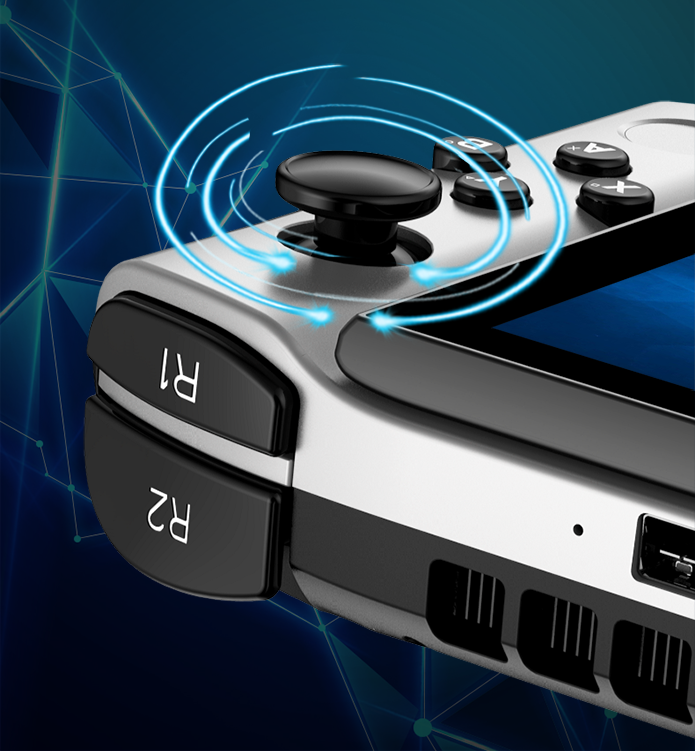 On small size handheld game console, the rocker can only adopt a sinking design, with short stroke, small swing distance, high resistance, and the experience is far from being ideal and often inferior to what external gamepad can offers. WIN 3's protruding ALPS original dual 3D big rocker has large stroke, large swing distance, low resistance, sacrificing a little bit of responsiveness but greatly improves accuracy. For example in a fighting game, the smoothness is comparable to those of Japan's top joysticks Seimitsu and Sanwa, and it natively supports L3/R3 functions.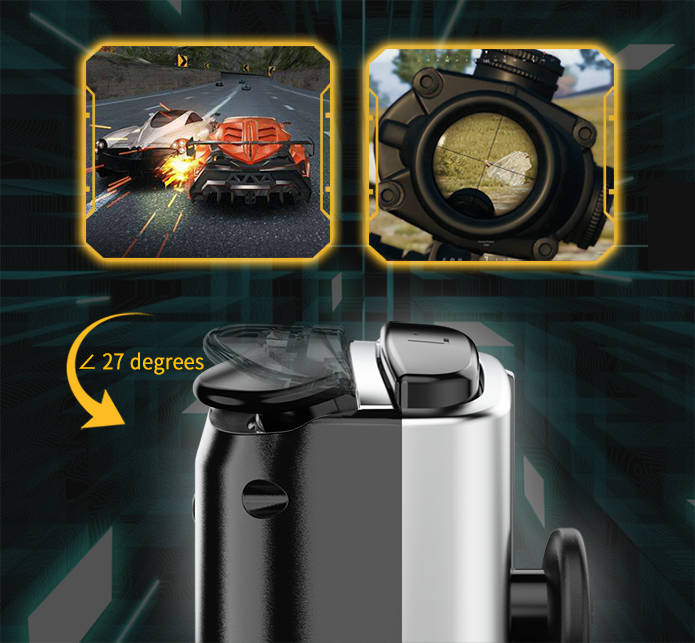 The most popular type of games among players are basically FPS, racing games and sports games. In early GPD's handheld game consoles, when users were playing racing games, experience wasn't optimal and quite rough when turning, accelerating, or decelerating. The reason was that the trigger buttons were digital, the signal sent by them was only defined by two states 0 and 1. With the WIN 3, L2 and R2 are changed to analog, with an inclination angle of 27 degrees, which can produce 256 (0 to 255) states and convert the obtained acceleration value into a digital command. If you are an advanced player and are experiencing racing games on the WIN 3, you will notice that experience is greatly improved. The racing will have proper control, shooting will be smoother, just like doing with a real throttle and gun trigger!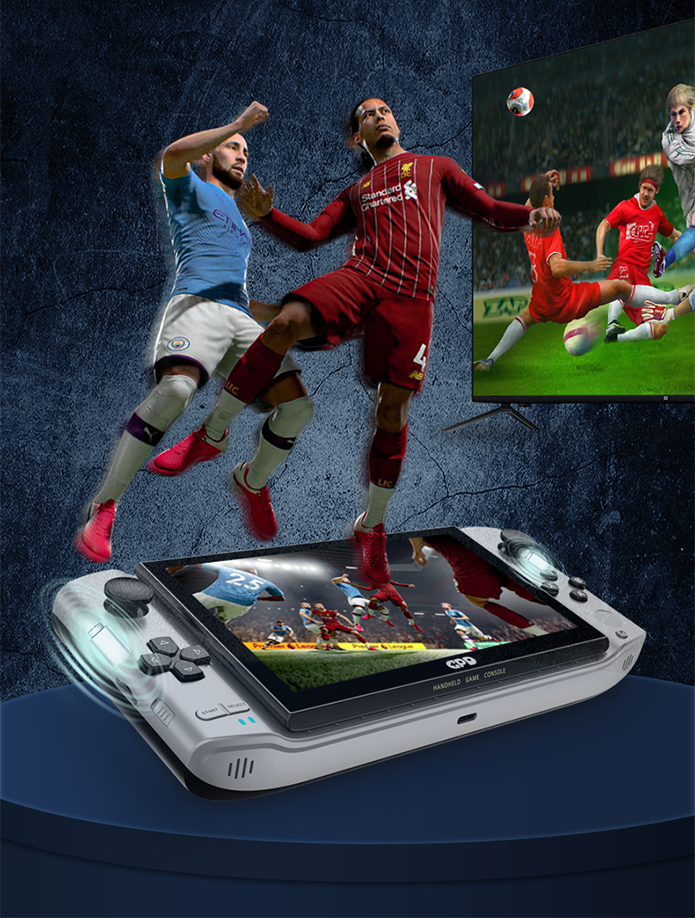 WIN 3 is also equipped with dual rumble motors. Its vibration effect will offer you a better immersion during the game. Starting a car engine, shooting a laser gun, controlling a helicopter, etc., everything would feel more real. When shooting, you will feel the gunrecoil, starting an engine will make your body shiver.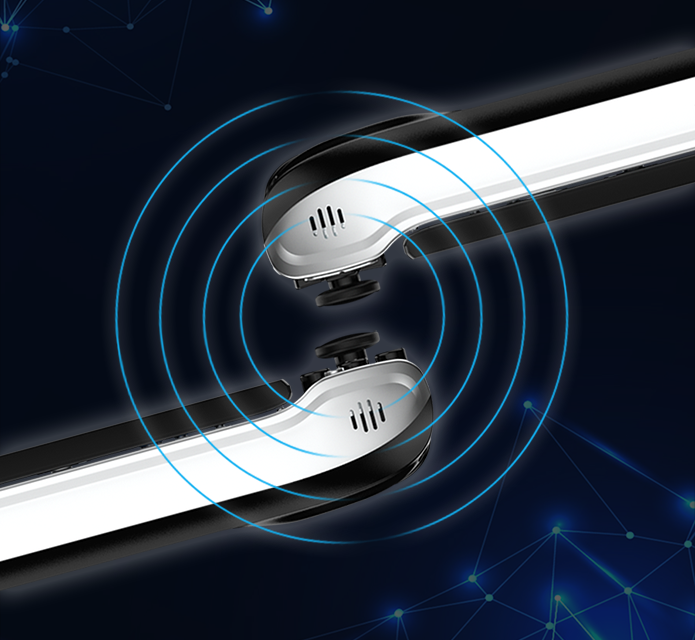 The previous WIN series handheld game consoles adopted ordinary stereo dual speakers, at the end the sound quality was always criticized by users. WIN 3 adopts AAC top stereo speakers from Germany. The sound cavity is built with bass materials and adopts a 0.9cc large sound cavity design. The double coil drives the sub and balances its force while  increase its amplitude. Therefore, the sound is more lively and louder.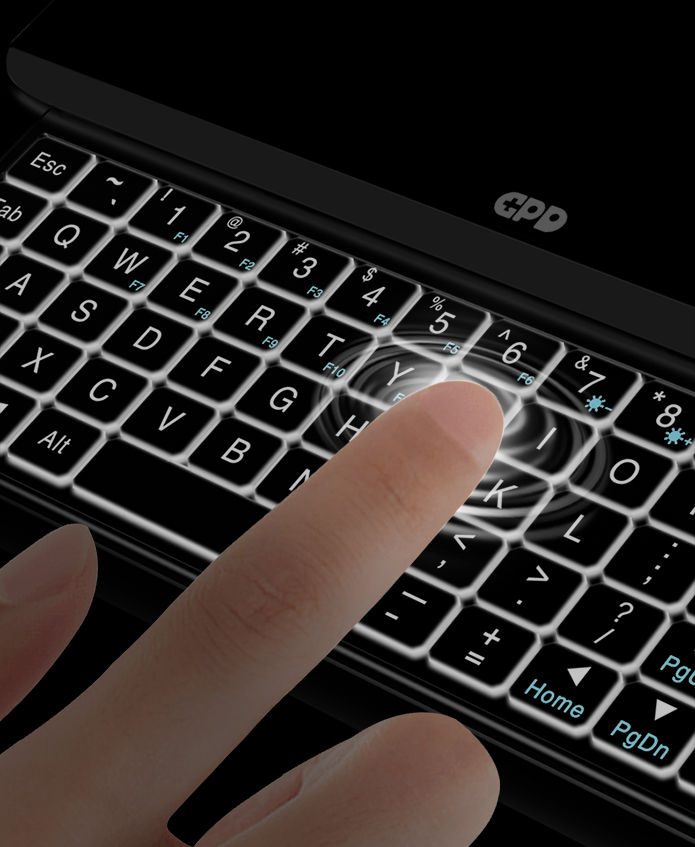 WIN 3 touch keyboard is hidden behind the screen and adopts the QWERTY full keyboard layout, which take advantage of the dual rumble motors. When the screen is slide open, the white backlight is on and user can experience haptic feedback while typing on it.
Why a touch keyboard? Most WIN devices handheld game console users reported that the keyboard is rarely used to play online games: they mainly us it for game account and password inputs. With an unibody handheld game console, if a physical keyboard is added, the body will be too thick and the internal structure design will be too complicated. WIN 3 adopts a thinner touch keyboard, which allows an optimised internal implementation and can free up more space for heat dissipation and batteries.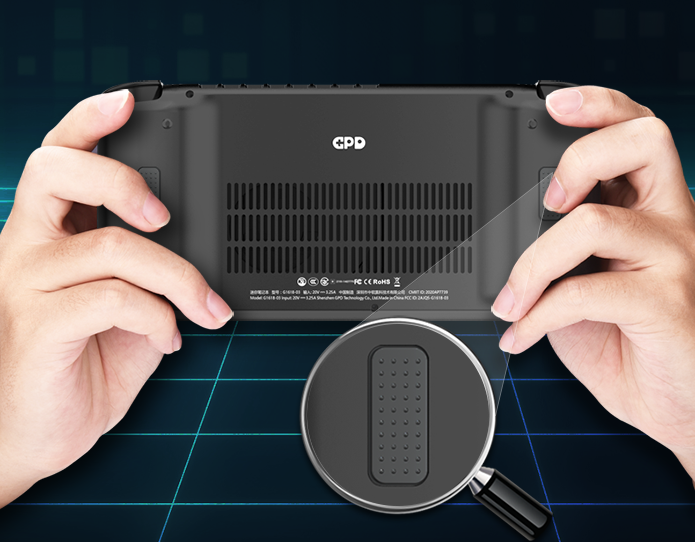 When playing games, the slider is usually closed because the keyboard is not used. However, sometimes, when you need to quickly press the ESC key to return to the game settings interface, it is troublesome to slide it open every time. In order to improve the experience, we added 2 customizable physical keys on the back of WIN 3, in order to allow the user who needs extra keys to use them with the "key binding customisation software" developed by GPD and built into the system to define a key on the keyboard.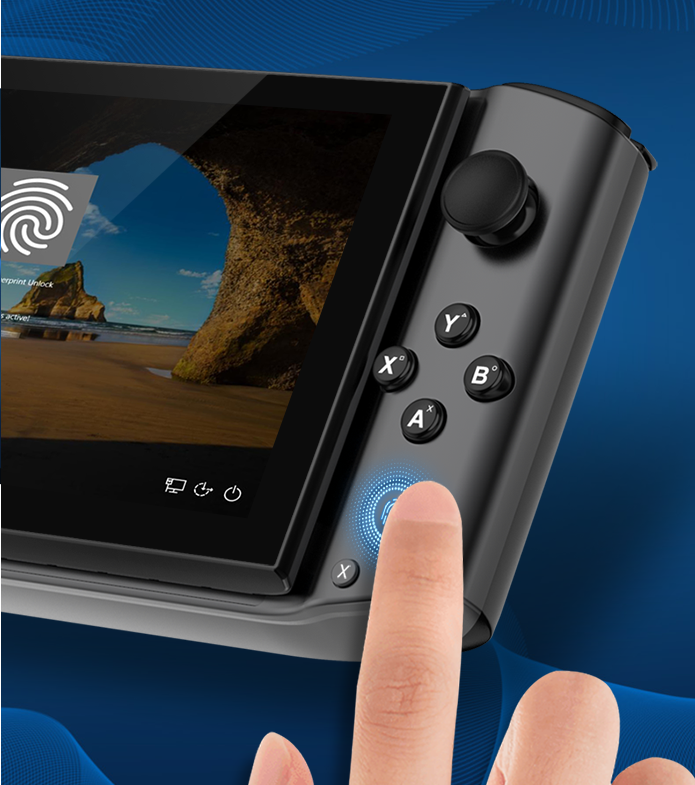 When a user temporary lock the screen, it isn't convenient to slide up the screen in order to only enter Windows password. So we added a fingerprint sensor to unlock the device, in the bottom right corner of the device. Unleach the system with one touch!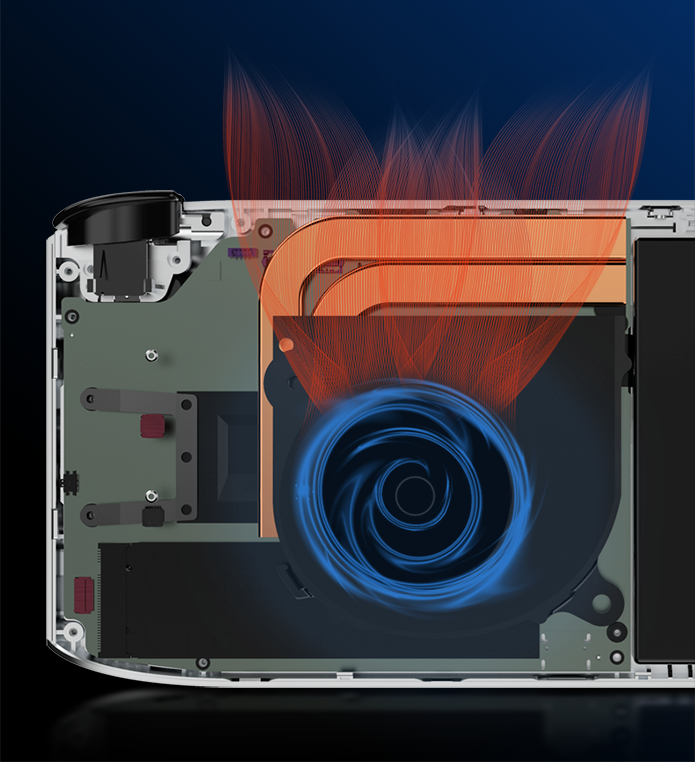 To improve further the heat dissipation system, WIN 3 adopts large desktop PC grade turbofan + dual heat pipe heat dissipation solution, with PWM control. When the internal temperature is lower than 40℃, the fan only turns on at 20%. When the internal temperature is higher than 40℃, the fan accelerates with 2% PWM increments each time, up to 100%. The air outlets almost occupy the entire top case, and the 8-hole channel allows the device to quickly discard heat. TDP is set with three threshold, 15-18W, 18-22W, 22-28W. Users can enter BIOS to set the TDP of their choice.
The top lid surface is sprayed in black matt and has curved edges, the middle is an 80×30mm hollow air inlet, and the handle part are made as a 5mm protruding design, which helps to avoid to block the air flow when it lays flat.

Tiger Lake-U in WIN 3 has a performance increase of 20% compared to Ice Lake-U of the previous generation, its graphics core performances has doubled and has 5 times the AI computing power of the previous generation. The following table is a comparison of the single-core/multi-core performance in Geekbench 5: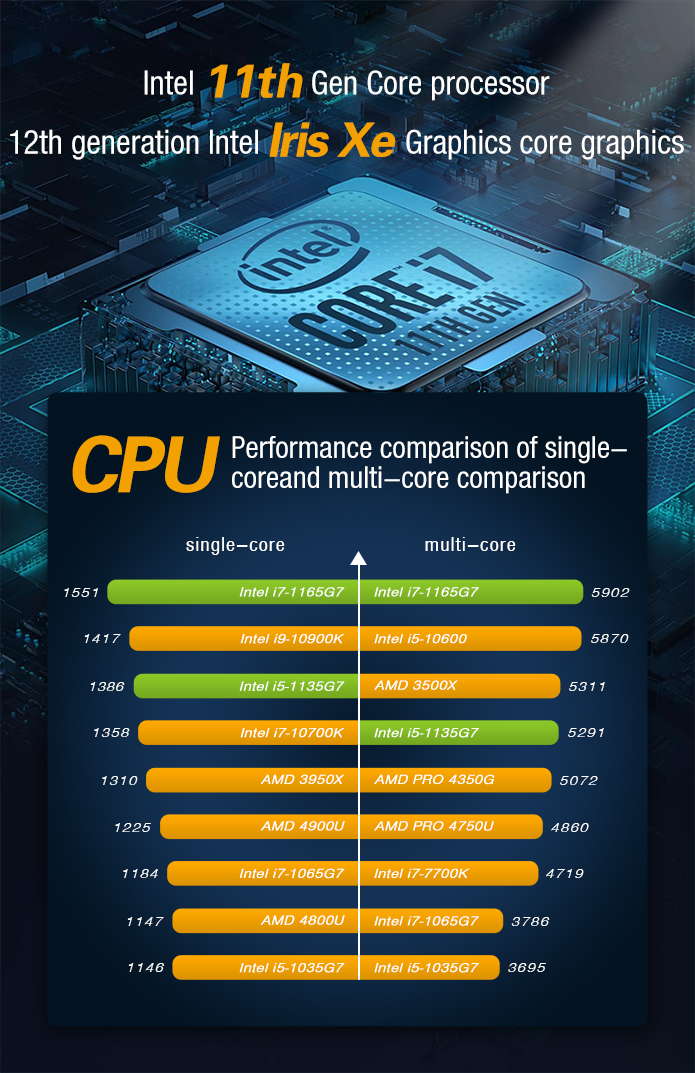 In terms of single-core performance comparison, i7-1165G7 surpasses desktop flagship processor i9-10900K; in terms of multi-core performance comparison, i7-1165G7 still beats desktop processor i5-10600.

WIN 3 integrates the 12th generation of Intel Iris Xe Graphics core, with 96 computing units, 8 cores per unit, for a total of 768 cores; its base frequency is 400MHz, the maximum dynamic frequency can reach up to 1300MHz, and it integrates 1MB L2 cache. The overall performances of the 96EU 1165G7 surpasses the NVIDIA GeForce MX350, while the 80EU 1135G7 also surpasses the NVIDIA GeForce MX350, from 28W.
The following table shows the performance of several mainstream mobile graphics cards under 3DMark 11 at a resolution of 1280×720: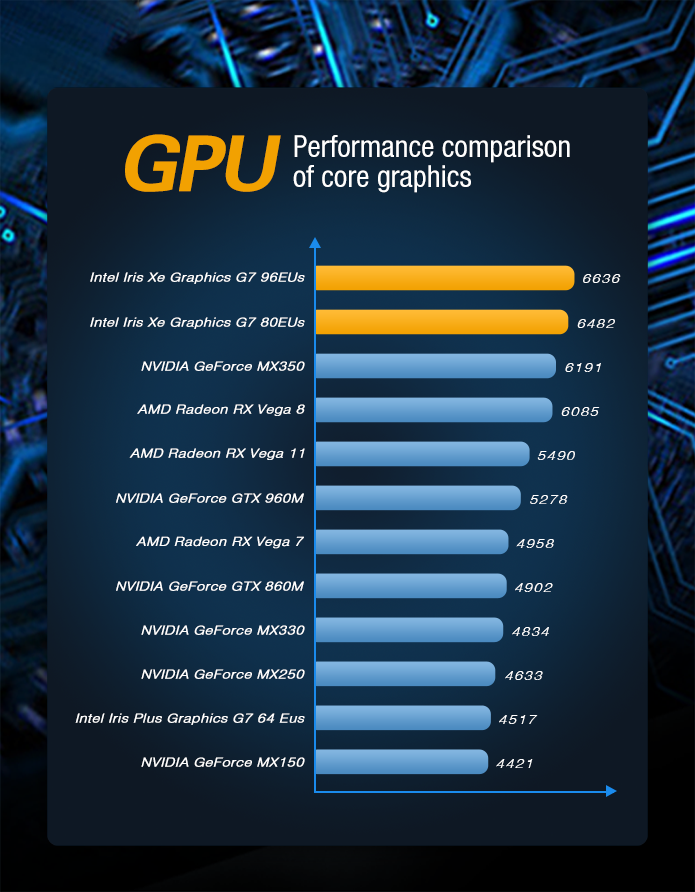 Users know that the MX100-MX400 series launched by NVIDIA are unique mobile GPU, managing heavy tasks mainly for light and thin devices. One of the criteria for testing the performance of the graphic core is the floating-point computing capability test, which includes half-precision test (FP16), single-precision test (FP32), and double-precision test (FP64). Compared to Nvidia, how does the lightweight standalone Intel Iris Xe Graphics G7 96EU performs? The following table is a comparison of the four most powerful mobile graphics cards on the current market: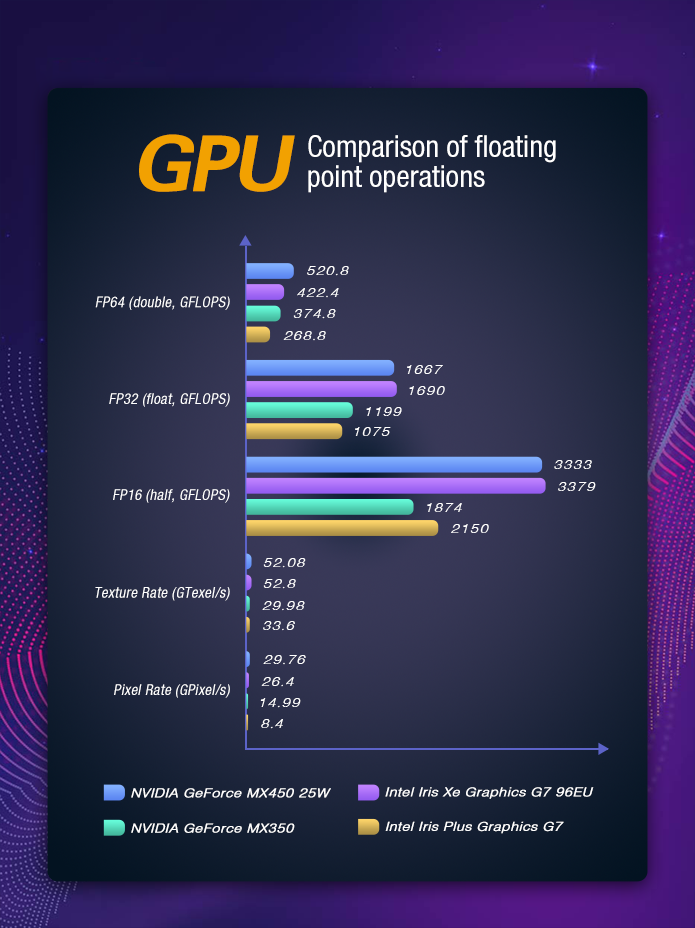 Intel Iris Xe Graphics G7 96EU surpasses NVIDIA GeForce MX450 (25W) in half-precision and single-precision floating-point operations and texture rate.

The Intel 11th-generation Tiger Lake-U processor increases the memory bandwidth to 86GB/s and supports the highest LPDDR4x 4267 memory to ensure the performance of the graphics core.
After testing, we found that the memory write speed of WIN 3 (Intel Core i7-1165G7) is twice faster than the HP EliteBook 845 G7 (AMD Ryzen 7 4800U), although both products have built-in 16GB dual-channel LPDDR4x 4266 memory.
We found that HP EliteBook 845 G7 will automatically reduce the frequency to LPDDR4 2666 MHz when the system is running. Looking at the Geekbench database, the comparison between i7-1165G7 and Ryzen 7 4700U shows that the memory bandwidth of the Intel processor is nearly 50% higher. Almost all ultrabooks based on AMD chipset are down-clocked to run at LPDDR4-2133 MHz to reduce latency.
Obviously, AMD has made a compromise for the 15W APU, which is to reduce the memory frequency under certain conditions. After all, the CPU, GPU, DDR, and SSD are all drawing power, the lack of it can lead to a decrease of the frequency. Using Prime95 to test memory stability, it was founded that HP EliteBook 845 G7 would crash instantly.
In a nutshell, we can draw as conclusion that AMD Ryzen 4000 series, with LPDDR4x 4266 memory, systematically has to run at a reduced frequency. Currently, LPDDR4x 4266 can only rely on the Intel 11th generation Tiger Lake-U processor to ensure the use of the 86GB/s memory bandwidth!
The following table shows the memory benchmark tests done on LPDDR4 3200, LPDDR4x 3733, LPDDR4x 4266: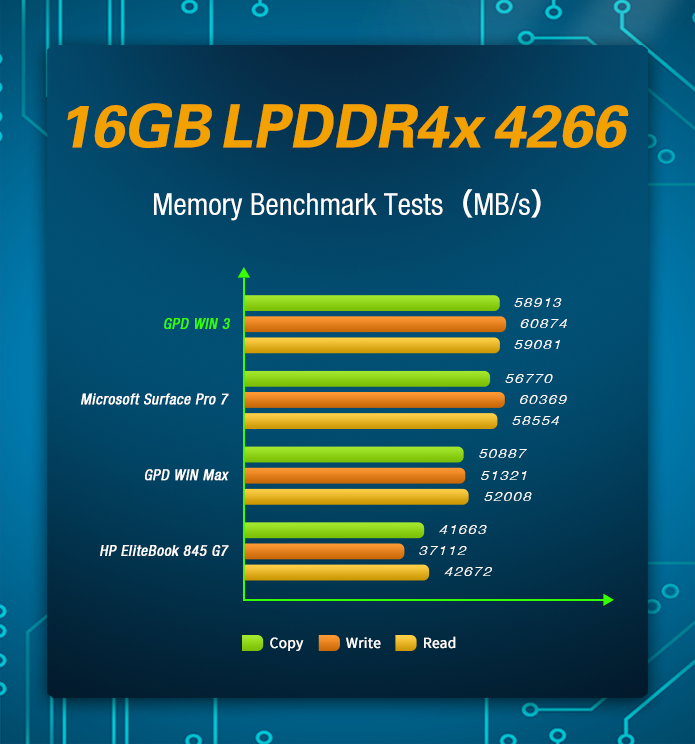 * Scores are based on the read, write and copy, the corresponding products are all dual-channel devices.

In WIN 3's built-in Intel 11th generation Tiger Lake-U processor, the biggest highlight is the integration of PCIe 4.0 interface specifications which offers a doubled bandwidth!
Currently, the sequential read/write of SSD with mainstream M.2 NVMe protocol interface is about 2000 to 3000MB/s. However, this is not the flash memory speed limit. It is limited by the interface bandwidth of PCIe 3.0×4, and the theoretical throughput limit is 3.938GB/s. The theoretical throughput limit of PCIe 4.0 reaches 7.877GB/s. Therefore, when you use PCIe 4.0 SSD on WIN 3, its speed will be doubled.
Tiger Lake-U series is currently the only embedded processor that can allows full access to the performance of PCIe 4 SSD. Meanwhile the competing AMD Ryzen 4000 series still only supports PCIe 3.0, Tiger Lake-Y only has a bus speed of 2GT/s OPI.
The image below depicts the WIN 3 tested read/write performance with a built-in Samsung 980 Pro SSD (support PCIe 4.0), compared to several other products: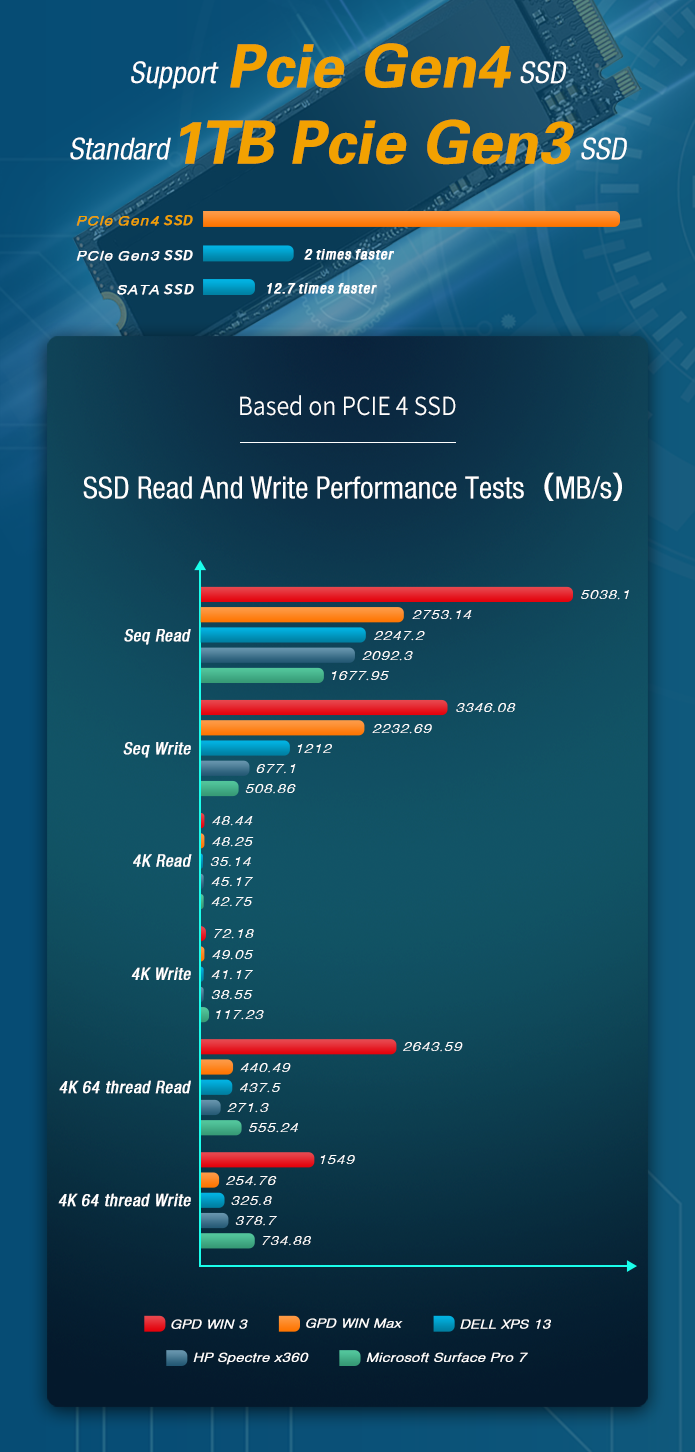 * Test software: AS SSD Benchmark;
* Test environment: 1135G7, LPDDR4x 4266, Samsung 980 PRO 500GB;
* Different versions of AS SSD Benchmark test results are slightly different, and the heat dissipation will severely affect the read/write speed.
* The chart shows read and write speed on PCIe 4 SSD. The standard configuration for the shipped machine is PCIe 3 SSD. If you want to ensure to reach the speed of the SSD in the chart, please purchase PCIe 4 SSD and swap it by yourself.
It can be seen that the sequential read of Samsung 980 Pro 500GB exceeds 5000MB/s, the sequential write speed exceeds 3300MB/s, so the read speed does indeed exceeds Thunderbolt 4!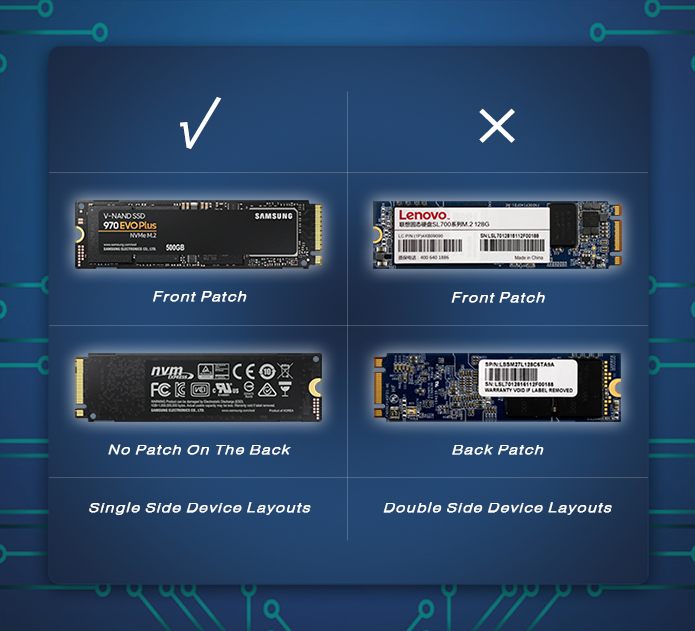 WIN 3 adopts M.2 NVMe / AHCI dual protocol interface, so no matter what kind of SSD you want to replace it with, it will work. However, due to space limit, WIN 3 only supports M.2 2280 single-side populated SSD, such as Samsung 980 PRO, while Lenovo NGFF SL700 can't be supported. Please focus on it when purchasing a new SSD.

Although SSD can expand capacity indefinitely, WIN 3 didn't give up on the microSDXC card slot. WIN 3 supports A2 standard Micro SDXC card, A2 card greatly improves the video speed level, its the lowest random read and write I/O performance can reach 4000/2000 IOPS, and the theoretical read and write speeds can reach 170MB/s and 90MB/s, which are nearly twice the speed of the A1 rated card. Meanwhile, it supports a maximum capacity of 2TB. The figure below is comparing the read and write speed data of two SanDisk microSDXC cards: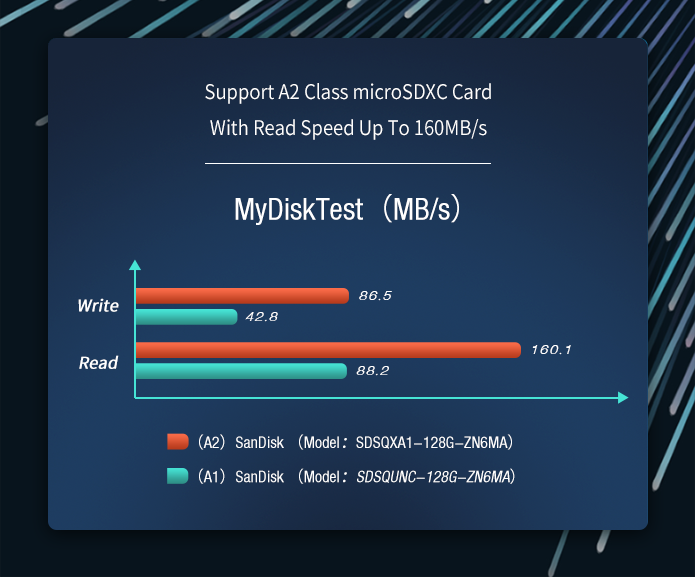 * Note:
Sandisk (model: SDSQUNC-128G-ZN6MA), the following data are measured on the WIN 2 (support A1 card), and the standards are: C10, U1, A1.
SanDisk (model: SDSQXA1-128G-ZN6MA), the following data are measured on the WIN 3 (support A2 card), and the standards are: C10, U3, V30, A2.

Another WIN 3 highlight is the integration of the latest Thunderbolt 4 interface, which natively supports USB 4, USB 3.2 Gen 2×2 (20Gb/s), HDMI, DisplayPort, RJ-45 network port, audio port, charging and other interface protocols, with backward compatibility with USB interface specifications 3.2/3.1/3.0/2.0/1.1. Thunderbolt 4 can be considered as having a full set of integrated interfaces.
The transfer rate of Ice Lake-U; the previous generation of Intel CPU; Thunderbolt 3 is 40Gbps, which includes one 8Gbps DisplayPort channel and four 8Gbps PCIe 3.0 channels. However, Thunderbolt 3 limits the maximum transfer rate supported by each connected device to 16Gbps (2GB/s). When you connect an external graphics dock, you can only use PCIe 3.0×2, and its bus DMI 3.0×4 can only provide 3.94GB/s bandwidth.
The transfer rate of Thunderbolt 4 is still 40Gbps, but the PCIe 4.0 bandwidth is doubled, and the maximum transfer rate supported by each connected device is increased to 32Gbps (4GB/s). The bus DMI 3.0×4 doubles to DMI 3.0×8, which can provide a total bandwidth of about 7.86 GB/s. Thus, when playing games with Thunderbolt 4 external eGFX (graphics card docking station), the performance of the external graphics card will be fully utilized because the bus bandwidth is doubled.
The Tiger Lake-Y series processors, although also integrated with Thunderbolt 4, can only provide 3.93GB/s bandwidth because the bus speed is only 2GT/s.
Through the external graphics dock, whether using the main screen or an external monitor, the game frame rate is greatly increased.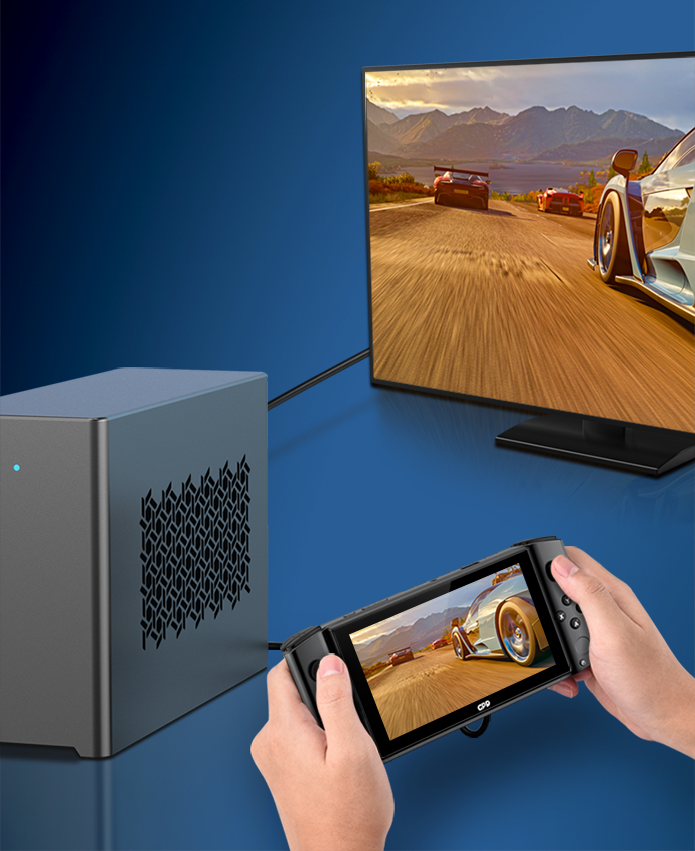 *Note: eGFX is a standard defined by Intel, which includes a complete set of external graphics solutions, such as power supply, motherboard, graphics card, interface, etc. The term eGPU only represents the graphics card. At present, retail platforms do not call eGFX uniformly. There are eGPU, graphics card dock, external graphic
In addition to external eGFX devices, the Thunderbolt 4 interface of WIN 3 supports power adapters based on PD 2.0/3.0 protocol and 15V/20V voltage, which is very scalable. For instance:
1. Any PD2.0/30 protocol power adapter with charging voltage up to 15V/20V on the market can charge WIN 3.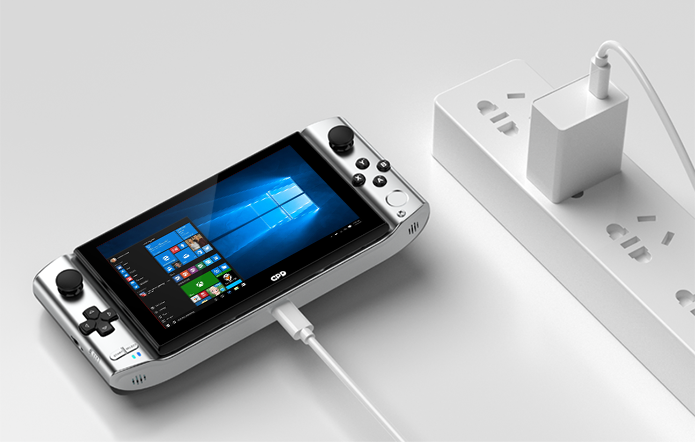 2. Through the Thunderbolt 4 interface, while outputting high-definition video signals to any monitor, the monitor can charge WIN 3 and as the reverse!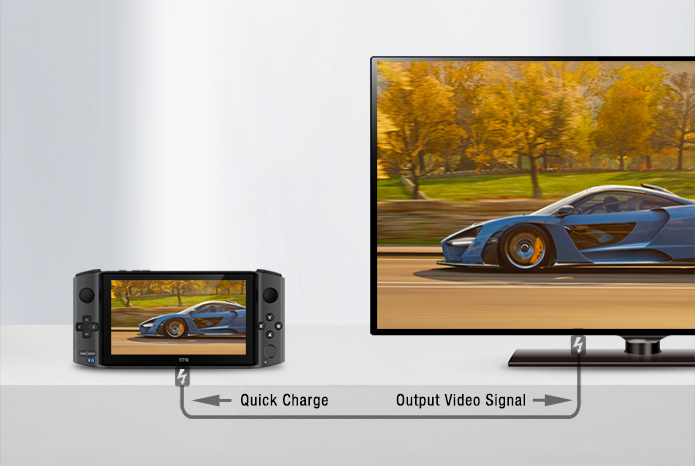 3. Through Thunderbolt 4 interface, WIN 3 supports the connection of 2 4K monitors or 1 8K monitor.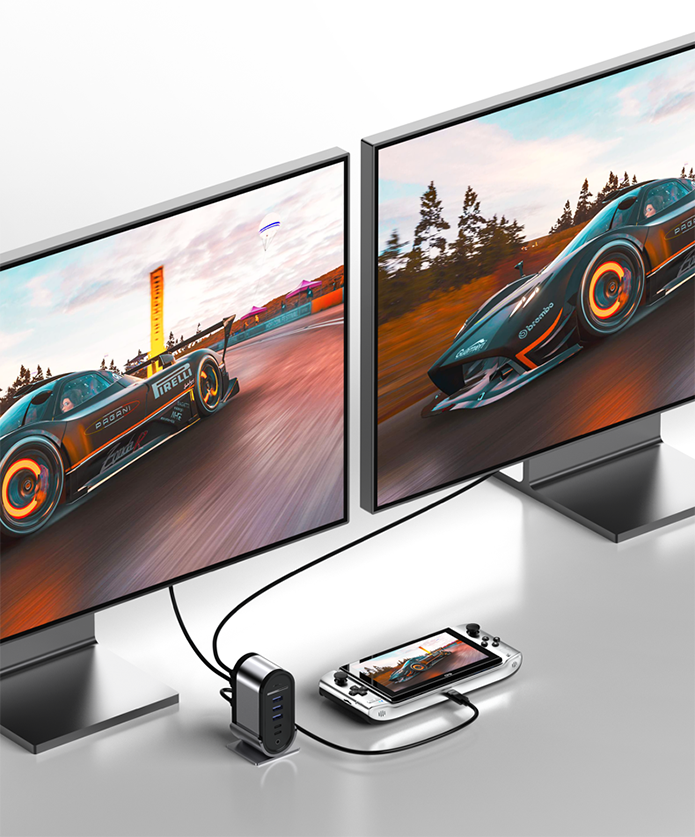 4. In the future, PCIe Gen 4 SSD external mobile hard disk or USB 4 flash disk can be connected to provide convenience for professional photographers to transfer large m2ts video files!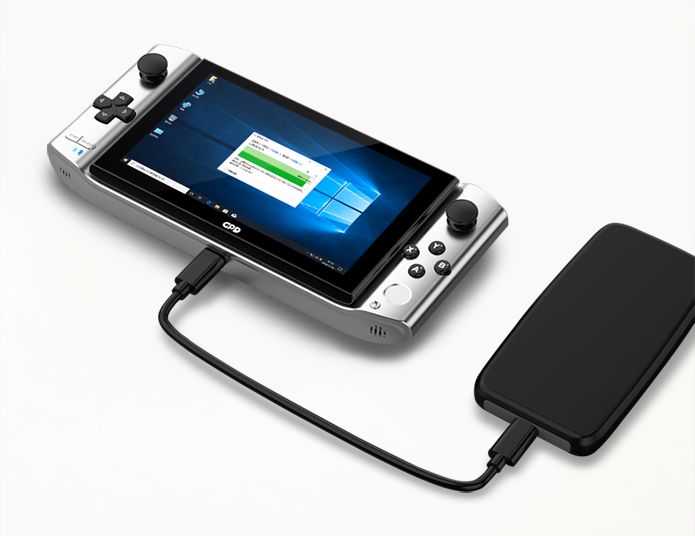 WIN 3 supports Intel's latest Wi-Fi 6 (Gig+) technology that complies with the IEEE 802.11ax standard, 160MHz channel, and single stream bandwidth up to 2402Mbps (download speed of 300MB/s).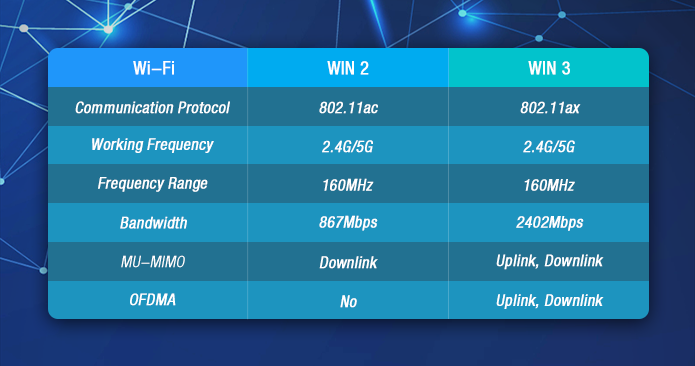 Unlike the SU-MIMO supported by Wi-Fi 5 (802.11ac Wave 1), Wi-Fi 6 improves MU-MIMO, greatly improving network throughput and parallel communication capabilities. When WIN 3 is connected to a wireless router based on MU-MIMO, with OFDMA technology, even if multiple wireless devices are connected to the router, its parallel communication capability can completely eliminate the high network delay caused by queued requests.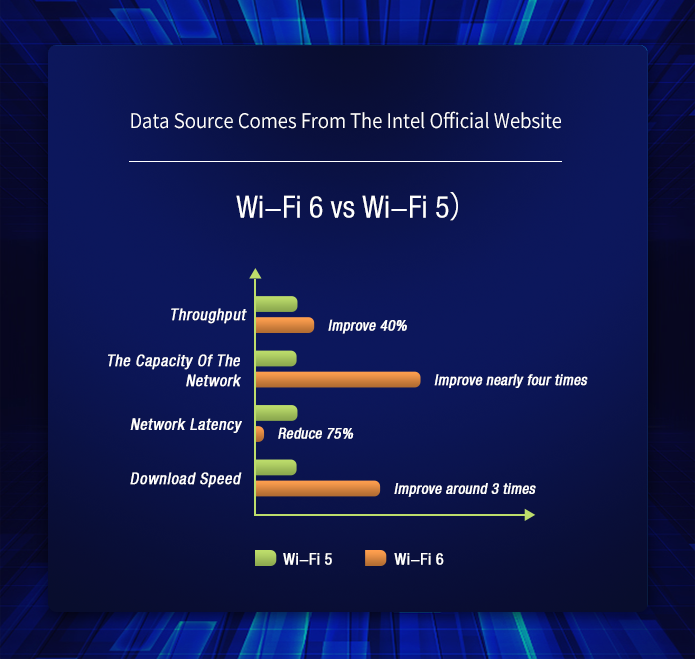 Compared with Wi-Fi 5, the theoretical transmission speed and throughput of Wi-Fi 6 are increased by 4 times, which is 2.4 times the current Gigabit wired network speed and 24 times the 100M wired network speed.
In the future, WIN 3 players can experience super smooth cloud games in any Wi-Fi 6-based network environment.

WIN 3's bluetooth 5.0 can connect 7 bluetooth devices at the same time, and the transmission speed is increased to 3MB/s compared to the previous generation of bluetooth. When turning on Wi-Fi, bluetooth can offer local tracking capacity with an accuracy of less than 1 meter. Meanwhile, bluetooth 5.0 has an increased effective communication distance of 300 meters, which means that users can go beyond the 10-meter limit of the old Bluetooth specification and connect various Bluetooth devices over a wider range.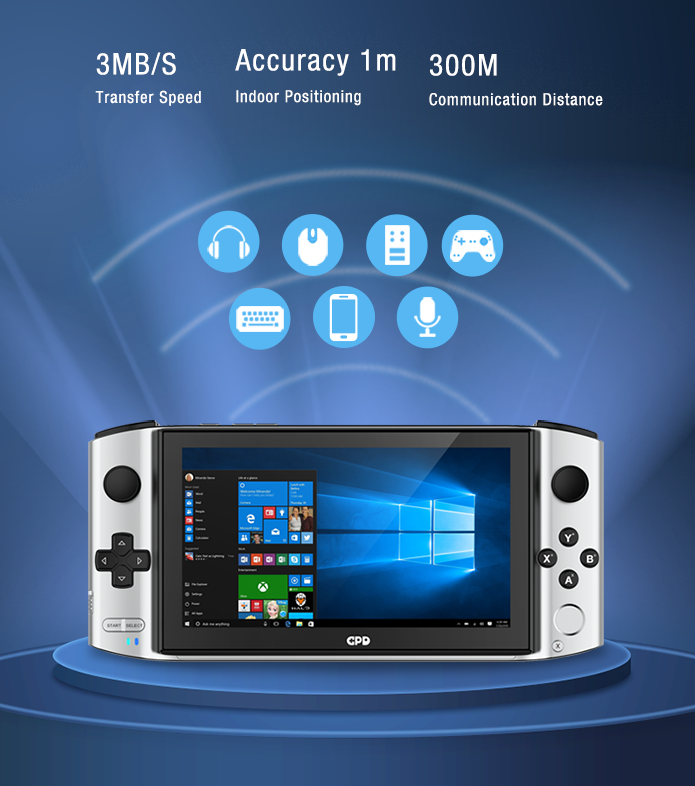 *Note: The connected device must also support Bluetooth 5.0 to achieve long-distance communication. It cannot work when connected with two identical devices at the same time, such as two headphones of the same specification. The communication distance of 300 meters is the theoretical value. The communication distances of most Bluetooth 5.0 devices may be reduced to 10 meters by the manufacturer due to high power consumption. Please confirm whether the connected device supports long-distance communication before purchasing.
WIN 3 provides 65W PD 2.0 protocol fast charging, which can be used through the Thunderbolt 4 interface from Type C interface of the botton side of the device. The device is fully charge after about 1.5 hours, the battery life while playing heavy games can reach up to 2 to 3 hours, for a moderate use, around 6 to 8 hours, and for light use up to 11 hours.
The following table depicts the comparison between charging performance on the WIN 3 and the one on the Microsoft Surface Pro 7: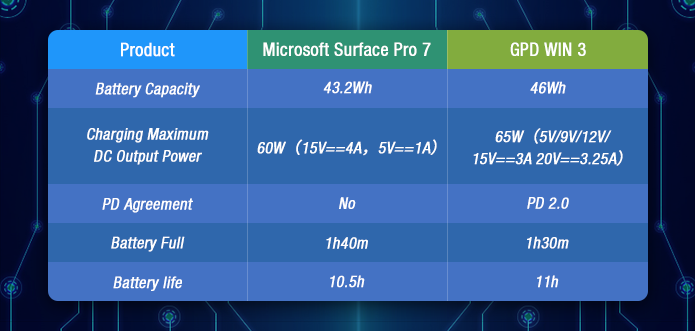 * Note on battery life testing:
The test involves draining a fully charged battery during normal use, i.e., both active use and standby. The active parts include:
(1) Web browsing test of accessing 8 mainstream websites through multiple open tabs
(2) Using Microsoft Word, PowerPoint, Excel, and Outlook for productivity testing
(3) Applications on the device running for a period of time in an idle state
All settings during the test are default values, except for the following settings: the screen brightness is set to 150 nits, and the automatic brightness adjustment is disabled; Wi-Fi stays connected. Battery life will vary significantly due to device settings, usage, and other factors.
In addition to charging WIN 3, the standard 65W fast charge also supports charging for any mobile phone, tablet, and laptop with a USB Type-C interface, and that is compatible with PD protocol.